Passive House Professionals
Imagine a sustainable home that provides the maximum comfort for you and your family by keeping stable internal temperatures and a continuous supply of fresh air! This building standard, called passive house design, originally developed in Germany, can reduce heating needs by an astounding 90%. This target is reached by making the house incredibly well-insulated, virtually air-tight, and by designing with contemporary use of building physics.

We are a group of preferred partners who will consult, design, educate, do the calculations, deliver and build your highly healthy, sustainable, energy efficient and comfortable dream home that will save you money on utility costs and dramatically improve your family's quality of life. Don't miss out to find out more about the new generation of sustainability in building design, we are here for you.

Our team includes:
Passive Hive- Building Design;
Smart Plus Academy- Education,
Idealinings- Building Science,
Ecobuild Solutions -Supplier,
McSharry Construction - Builder
PebbleSunday - Builder

Come meet us at the Perth Autumn Home Show!
Make an enquiry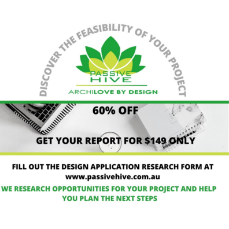 Special

- DESIGN RESEARCH PHASE 60% OFF- Discover possibilities on your project

Get clear on what you can achieve IN YOUR HOME and let us help you with the design of a meaningful sustainable dream home that provides maximum health and comfort for your family by stabilizing indoor temperatures and providing a continuous supply of fresh air while using very little energy.

Conditions
WE RESEARCH OPPORTUNITIES FOR YOUR PROJECT AND HELP YOU PLAN THE NEXT STEPS. FILL OUT THE DESIGN APPLICATION RESEARCH FORM AT WWW.PASSIVEHIVE.COM.AU
More information