InsulGuard
InsulGuard is the trusted name in insulation, ventilation and cavity wall insulation.

Our sustainable home improvements keep you cooler in the Summer and warmer in the Winter; reducing your reliance on heating and lowering your energy bills. A more comfortable, sustainable home for you and your family.

As featured on Today Tonight, Cavity Shield is Perth's leading cavity wall insulation solution. Designed for new builds and existing homes, Cavity Shield is the only wall insulation product that guarantees 100% coverage, no moisture penetration and is manufactured right here in WA.
Make an enquiry
Special

- SAVE 30% ON CAVITY SHIELD!

Save up to 30% for supply and install of InsulGuard Cavity Shield.
Conditions
30% savings is based on a standard 4x2 single storey tiled roof. Discount may vary based on home construction and size.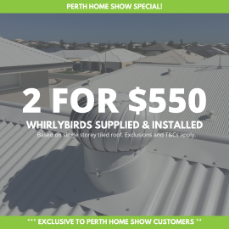 Special

- 2 WHIRLYBIRDS FOR $550 (SAVE $150!)

Get two standard wind-driven whirlybirds supplied and installed for $550. Australian made with a 15 year warranty and colour matched to your roof.
Conditions
Based on a single storey tiled roof within 50km of Perth. Tin roofs, two storey homes and outside of Perth CBD may have additional charges.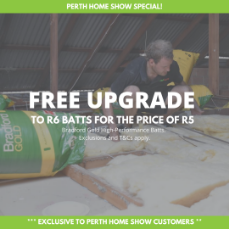 Special

- FREE UPGRADE FROM R5 TO R6 BATTS!

Upgrade to Bradford Gold High Performance R6 batts for the same price as the R5. 20% more efficiency FREE!
Conditions
Available for single storey homes in accessible ceiling areas. Additional charges may apply for other constructions.